Which one are you- Educated or Literate?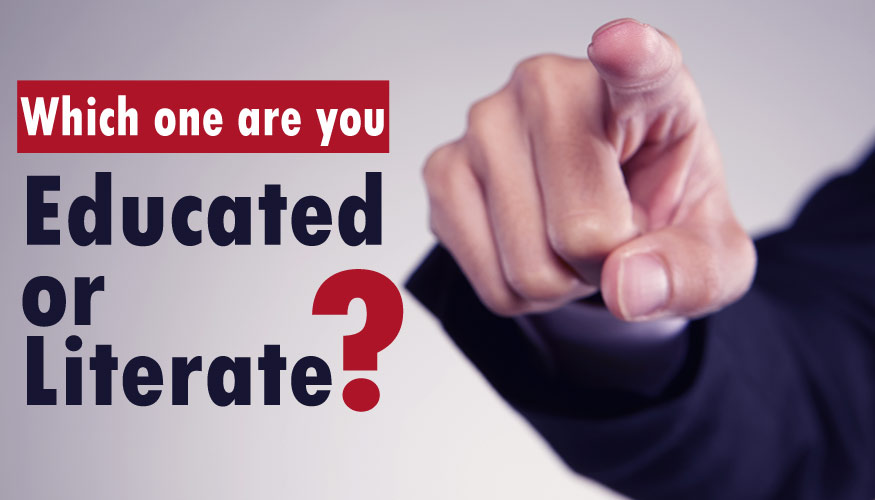 "It is better to be able neither to read nor write than to be able to do nothing else"

 – by William Hazlitt
These above-mentioned lines are one of the finest written lines by Hazlitt in his essay 'On the Ignorance of the Learned'. Though it was written two centuries ago, the relevancy of the essay does not lose its essence. Through times we have forgotten the true difference between being a literate human being and an educated human being. We have merged these two concepts and they have become near about synonyms for each other. However, it is extremely important to understand and consider the difference between being literate and educated so as to find out where does every individual's esteem lie.
Being literate, in layman's language, means being able to read and write. When considered with a particular, one should be able to carry out his daily activities neatly with that language. It's a lifelong process of the intellect of the ability to derive meaning from print and verbal means of communication. Anyone is literate who can decode written words and conceive spoken words in any particular language.
Though in modern times, the meaning of literacy has gained new meaning, changing a bit in its context. It is now a term connoted to the census that counts the number of people who, at a basic level, can read as well as write. It is now used as a parameter to judge the progress and development in a country. In this world where information runs wild in various forms, one's life is unimaginable without literacy. Therefore the census of literacy is used to determine the ratio of the population that is able to read and write and in turn determine the strength of the country as intellectual power.
The basic path of literacy shapes the result toward education. Through literacy, one paves the way to acquire education. An educated person is the one who can critically analyze the information given or acquired by him. And through this power of understanding, the person is able to make a decision that he thinks is becoming of him. This decision making aspect is very significant because this helps to develop skills and requirements according to changing times. He is more involved in the matters of the world and takes interests and action regarding the same. This action taking behaviour comes in a person only after he is knowledgeable enough to understand the left and right of any situation and take action as appropriate for him.
The True Difference
The major attribute that differentiates a literate person and an educated person is the understanding of purposes of daily endeavour and having the ability to question the same. An educated person's ability to analyse any situation with the intelligence he has acquired through his education gives him the capacity of understanding and questioning. These two attributes are greatly relevant to function properly and work in the benefit of society. Man is a social animal and is responsible for every aspect related to society. Therefore for the proper operation of society, every individual should be capable enough with powers of intelligence, appreciation, curiosity and inquisition.
Being able to just read and write does not guarantee the above-mentioned abilities, they only are the provision required for daily life.   One has to go through life long processes to become educated, even in the minimal sense. Reading and writing are basic and the foundation for the further quest for education. But no matter how long the education runs, one can never be perfectly educated because education is never-ending.