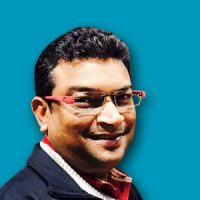 Amit Rathi
BUSINESS CONSULTANT
Sales Distribution & General Management professional with 23 years of rich General Management experience in the telecom and FMCG industries. Highly passionate, a Proven Track record of delivering on commercial and service growth targets and goals across all business phases – start-up, stability, growth and maturity. Proficient in managing diverse/multiple and cross-functional business domains like sales & distribution, retail operations, mobile-commerce, customer services, enterprise (B2B) business and modern trade.
He is a results-oriented, decisive and people's leader, with proven success in establishing a lasting presence in new markets, identifying growth opportunities and initiating strong business alliances.
He has a professionally satisfying 23 years experience which includes Sales operations, Zonal operations, P & L Management, successful assignments with many multinational organisations, large-volume businesses, marketing, product & strong brand building and very large size distribution setups.
He is helping and mentoring Skilling You to build a sustainable business model for its stakeholders & franchises along with long-lasting customer experience.
He is playing a major role in taking Skilling You to every part of the country and Making India Skillful.