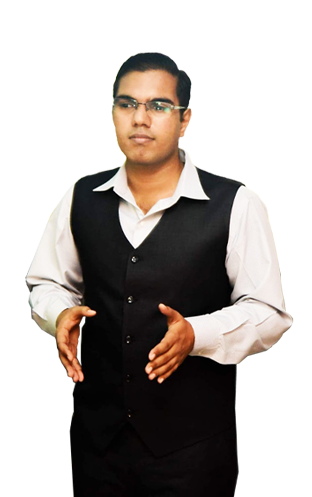 Manish Jain
Soft-Skills Trainer
His mission is to uplift individuals & groups by providing them the techniques & strategies to curb their limiting beliefs, to become fearless & to get ready to change the course of their life by creating a game changer action plan. Since 2012, he has worked with professional teams & impacted the lives of more than 10,000 people through his effective programs, workshops, seminars & personal coaching sessions. He is a Certified Soft Skills Trainer & a Certified Career Counsellor, and training people to deal with their daily struggles & to turn their roadblocks into building blocks for leading a successful life. Being a part of Pradhan Mantri Kaushal Vikas Yojana (PMKYV), as a trainer, where he trained students of government colleges was one of the biggest achievements for him.
WHAT INDUSTRY LEADER SAYS
How real people said about Skilling you.

Amitabh Saxena
Founder & CEO Anexas Denmark
" This is the innovative initiative led by a youngster for the youth of the country, who are in so much need for the skills, especially for the future.   Obviously, the past skills are not going to help anymore and I am happy to see the youngster could visualize this and have come out in the form Skilling You. "

Sharad Vivek Sagar
Founder & CEO dexterity Global , Forbes 30 under 30
"The young and the skilled can change a nation. With a population 65% young, we're halfway there. With a population better skilled, we can go all the way. Skilling You is an important first step in that direction."

Gurmeet Kaur
Risk professional and globally certified trainer
"This is a great initiative at "Skilling You", which will ensure that the Postgraduate students are better employable. This initiative will create WIN-WIN situation for both the Employer and the Employee.All the very best to "Skilling You" in their endeavor to make the "Campus to Corporate" Journey for our youngsters a success."

Dhiraj Agrawal
CEO & Sr V.P(TW business) at Manappuram Finance Ltd
A skilled employee is the strength of every organization. A skillful employee brings business and support in achieving organizational goals objectively."Skilling You" is doing a marvelous job by creating an Eco-system of Skilled Workforce in India