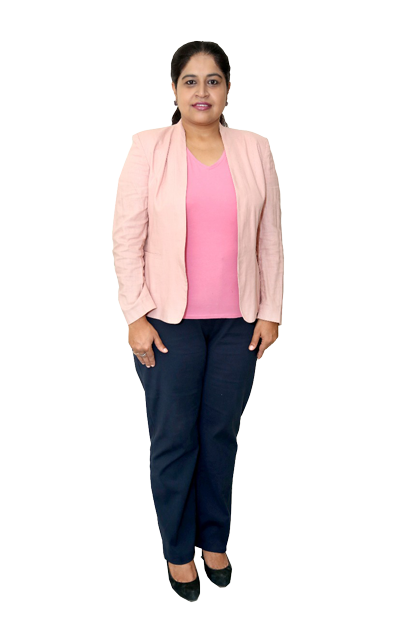 Bindiya Kaura
Behavioral Coach, Training Consultant & Social Activist
Bindiya Kaura is a seasoned training professional with an experience of eighteen years in the field of BFSI ,Sales and Behavioral Training. Bindiya has successfully facilitated trainings and workshops for thousands of professionals and students in English Communication, Personality Enhancement, Behavioral and Soft Skills, Life skills, Interview cracking skills, Corporate readiness and pre-placement activities.Her exposure in the training industry varies from handling workshops, seminars, motivational sessions with professional universities, handling corporate training programs on selling skills, stress management, business communication, execution excellence, consultative selling, insurance products and processes, induction training etc. to Conducting a workshop on 'Honor Code' for a student strength of 4000.She has worked in the capacity of a Consultant with SKOPE India Business Consulting Pvt. Ltd., The Hindu Group, Shram Smarthan and Work Better Training Pvt. Ltd. Started her professional career as a Banking Professional (Institutional business development and Project management)with HDFC Bank Chandigarh for seven years, she transitioned into the Training Industry with NIIT-IFBI Chandigarh and served as a Senior Trainer and Consultant for a decade.
WHAT INDUSTRY LEADER SAYS
How real people said about Skilling you.

Amitabh Saxena
Founder & CEO Anexas Denmark
" This is the innovative initiative led by a youngster for the youth of the country, who are in so much need for the skills, especially for the future.   Obviously, the past skills are not going to help anymore and I am happy to see the youngster could visualize this and have come out in the form Skilling You. "

Sharad Vivek Sagar
Founder & CEO dexterity Global , Forbes 30 under 30
"The young and the skilled can change a nation. With a population 65% young, we're halfway there. With a population better skilled, we can go all the way. Skilling You is an important first step in that direction."

Gurmeet Kaur
Risk professional and globally certified trainer
"This is a great initiative at "Skilling You", which will ensure that the Postgraduate students are better employable. This initiative will create WIN-WIN situation for both the Employer and the Employee.All the very best to "Skilling You" in their endeavor to make the "Campus to Corporate" Journey for our youngsters a success."

Dhiraj Agrawal
CEO & Sr V.P(TW business) at Manappuram Finance Ltd
A skilled employee is the strength of every organization. A skillful employee brings business and support in achieving organizational goals objectively."Skilling You" is doing a marvelous job by creating an Eco-system of Skilled Workforce in India